Tabletop gamers are notoriously hard to buy for. The obvious choice would be to get them another game, the problem is that they usually buy any games they want. Plus you never know what they already have or don't have, and if they don't have something maybe there's a reason why they didn't buy it.
In this article, I will suggest a number of gift ideas for board game lovers and roleplayers. There are presents you can give a gamer instead of yet another game.
Disclosure: Some links in this post are affiliate links. Using these links doesn't cost you anything extra and it helps support this blog and podcast. As an Amazon Affiliate, I earn from qualifying purchases.
---
Chris is shopping for the "board game buyer" in his group and doesn't know what to do
This article comes from a question we received from Chris S who asked:
With the holidays coming up, what does one get for the gamer that has everything? I have a friend who is the game-buyer for our group, so he doesn't need games, but it would be great to get him some accessories for the games he has. What do you recommend?
Sean and I discussed this topic at length on our live show last Wednesday, and you can watch us list our suggestions for gifts for tabletop gamers that aren't just new games over on YouTube. What I will be doing in this article is summarising and condensing that list as well as providing links to where you can get many of the things we suggest.
---
Non-game gifts for board gamers and RPG players:
I've split this list of non-game gift ideas into a number of sections and tried to group things in a logical way. There ended up being some overlap in some of these sections due to that. As usual, this list is in no particular order.
Box Inserts – Back in August 2018 we had a discussion on whether box inserts were worth it, and our overall answer was that if there's anything you can do that will get a game to the table more often or to get folks to play a game that otherwise wouldn't be played then it was worth it. A box insert for your gamer's favourite game is a great gift. As is one for any game they mention takes a long time to set up, one where there are so many components it's hard to keep track of or for a game with a lot of expansion content that you can potentially combine and fit into one box with the proper insert.
There are a number of different options when it comes to box inserts. Foamcore inserts from companies like Folded Space and Insert Here are light and cheap. Wooden inserts from places like E-Raptor and Meeple Realty are sturdier, generally better looking and sometimes feature additional functionality. Game Trayz does plastic inserts that are very light.
You can find all these types of inserts as well as 3d printed ones on Etsy.
Component Upgrades – Some of the best gifts you can give to a gamer are things that improve the games they already own. There are a growing number of game upgrades available out there, both produced by game publishers directly and by game fans. Custom meeples, 3d printed components, replacement pieces, metal coins, poker chips, custom bennies, and more are out there if you go searching for them.
Meeplesource is one of the best-known well-established companies offering board game component upgrades. Stonemaier Games also offers a number of upgrades kits designed specifically for their games, like Scythe, as well as generic kits for use in any game.
I personally love browsing Etsy for board game bling. That's where I found my Terraforming Mars overlays, and I've been very tempted by a number of Gloomhaven scenery sets.
BoardGameGeek has really started to dive into this with their line of GeekUp game upgrades. These are plastic component sets that are meant to replace the cardboard components from specific games. I first discovered their Orleans GeekUp set and I know their Quacks of Quedlinburg set is also very popular.
There's stuff out there for roleplayers as well. Consider picking up a set of metal Fate Tokens for your Fate GM or some Turn Tracker Cards if you play a game using popcorn initiative.
Neoprene mats – Consider picking up a mat for your gamer's favourite game. One thing I've learned over the last five years or so is how much I love gaming on a neoprene mat.
There are many mats out there, both official and not, for almost any game that could use one. Check with the game publisher and also look for fan-created mats. Another option is to look at the downloadable files for mats on Board Game Geek and then use a site like ArtsCow or Printer's Studio to print your own.
Generic mats can also be useful, and are available in various patterns, like a star map for sci-fi games, or grassy fields for wargames. Even just a plain black mat can be useful for keeping components in place and making cards and tokens easier to pick up. For RPG fans consider getting a mat showing an overland map of your GM's campaign world of choice or a blank mat with a grid for drawing maps as you play. Companies like Inked Gaming specialize in neoprene mats and Game Toppers have branched out from not just making tables but also making mats for them.
A cheaper alternative, great for miniature games or games where you aren't picking up the components all the time, is a vinyl game mat.
Dice Towers and/or Trays – If you know someone who plays a lot of RPGs, or wargames or board games with dice, think about picking up a dice tower or dice tray.
There are a ton of dice tower options out there from fold flat leather dice towers you snap together before use, to highly detailed laser cut wood towers and 3d printed resin towers. Etsy is filled with dice towers, simple to complex, at all price ranges.
For dice trays, I'm a big fan of the PU leather trays from Easy Roller Dice. They have a staging area to keep the dice between rolls and feature two rolling areas. I've also been tempted by snap dice trays that lay flat when not in use.
Component Organizers – What I'm talking about here are things you can use while playing a game to keep the various components sorted and organized.
While I'll always be a big fan of using wooden bowls for component sorting there are a number of other things people have been using for component organization. Silicon muffin cups are very popular, as they are cheap and fold flat so you can just toss them into your game boxes. Another great option that can also be kept inside your game boxes is snap together rubber component bowls.
Etsy has a number of specially designed component cups with spouts for easily putting bits away when the game is done.
For organizing components in the box, without going for a full board game box insert, take a look at Plano and other plastic organizers.
Nailpolish organizers are a great gift for a miniature gamer and are much cheaper than custom racks for holding paint pots.

Gamer Luggage – One thing many gamers grow to realize they need is a good way to transport their games around. I personally recommend checking out a cajon bag for a cheap way of transporting board games or one of the growing number of gamer backpacks being put out. There's also a company called Geek On! that specializes in various types of gamer luggage.
You can get backpacks designed for roleplayers as well, with pockets for dice and straps for holding maps. For the card gamer, I have to strongly recommend the Quiver card carrying case. Read my full Quiver review to find out why. Quiver also makes the Citadel Deck Block for duelling card game players, it's one of the most durable deck boxes out there that also includes a spot for dice, counters, etc.
If you have a lot of small box board games and card games, a photo case is great for transporting a bunch of games at once. For bigger games consider picking up a set of box bands so that nothing opens up during transport.
When shopping for a miniature wargamer be sure to check out my article on the best way to sort, store and protect tabletop gaming miniatures. There I talk about various miniature transport options like hard figure cases, pluck foam, and Battle Foam.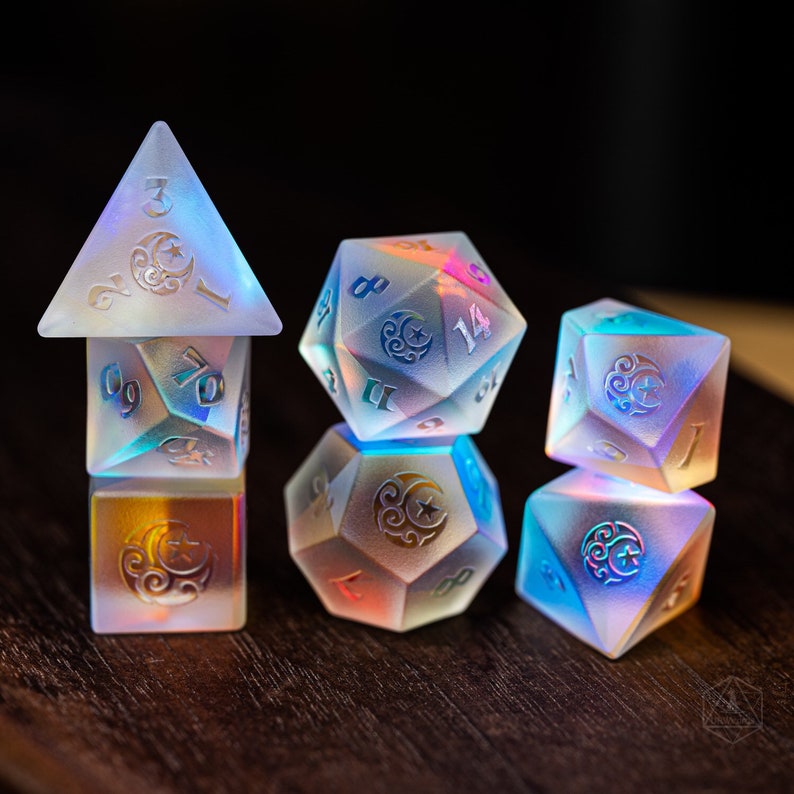 Dice – One thing every gamer I've ever met has agreed to is that none of us will ever have too many dice.
The thing with giving the gift of dice is to find something really unique or something higher quality than the average gamer would buy for themselves.
Personally, I think the gunmetal dice at Easy Roller Dice are some of the best metal dice on the market. If you are buying metal dice also consider picking up one of the dice trays I mentioned earlier, you don't want your gamer damaging their table.
I'm also a big fan of the various patterns on Q-Workshop dice, and I own a couple of great looking sets of 3d printed dice including a set of Steampunk Gear Dice from Shapeways. To take things to the next level you can even get gemstone dice.
If you really want to make things personal, you can get a set of custom dice printed up. While not cheap, you can get pretty much any type or size of die made at BoardGamesMaker.com.
For Card Game Players – I already mentioned the Quiver card case in the gamer luggage section but there are a number of other things a card gamer would love to receive as a gift.
Most serious card game players play with sleeved cards. A cool gift would be a set of custom sleeves. These could feature their favourite artwork or even better get some custom printed ones with something keyed specifically to that player. Instead of custom sleeves, you can also get sleeves with artwork from specific games or with various geeky and pop culture references like these Star Wars Darth Vader "I have you now" sleeves.
The use of playmats is also common among card players and similar to card sleeves you can order custom playmats with whatever artwork you chose or pick up pre-printed mats with all kinds of graphics and styles.
Swag – If the person you are buying for has a favourite podcast, YouTuber, streamer, publisher, game designer, licence, etc. consider picking them up some swag promoting that thing. Mugs, mousepads, t-shirts, cell phone cases, and more are available for most brands.
You can even get Tabletop Bellhop swag through our Tabletop Bellhop Streamelements Store.
If you can't find the thing they like you can upload your own artwork to places like ArtCow who will put it on pretty much anything. Just be aware of copyright and only use images you have permission to use.
There's also a ton of cool non-branded geeky swag out there. RPG&Co, the company that designed our Bellhop Bell logo, sells all kinds of great looking gamer swag.
Digital Gaming Content – The last suggestion I have is to consider picking up some digital content. This may be the best option on the list this year due to most of us not being able to game in person during this time of COVID.
Consider picking up a subscription to Board Game Arena, or a copy of Tabletop Simulator so that you can game together online. You could also pick up a copy of a digital game on your gamer's favourite platform. Digital versions of tabletop games are becoming more and more popular and available on a wide variety of platforms. The Nintendo Switch, in particular, has had some great gaming content released for it. Many of these games are as good as, or at least close to as good as, their tabletop equivalents. For example, take a look at Terraforming Mars on Steam, which Sean and I reviewed last year.
If shopping for an RPG GM consider a subscription to Syrinscape and let them enhance their future game nights with tabletop audio. For other digital roleplaying content take a look at the various publishers. For example, there's no D&D DM that I know that doesn't have some form of D&D Beyond content on their wishlist.
---
The items in the list above are all things that I personally wouldn't mind getting as gifts, either for the holidays or for a special occasion like a birthday or anniversary. What have you gotten for the gamer in your life that wasn't just another board game? Let us know in the comments.